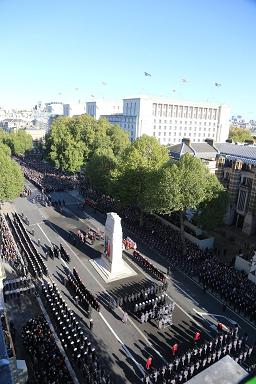 Security & Remembrance...
The security of a nation and its people is the first responsibility of any democratic and good government. To achieve this it usually means setting up a governance and strategies to address domestic and foreign problems and threats. To that end you need to be determined and make prudent decisions on security. This will include difficult choices. The NATO agreement, although signed in an European Form earlier, was formally signed on 4th April 1949 and the now 28 Member States are each obliged to spend 2% of their GDP on Defence.
To effect good defence requires good policies, teams, organisation, training, strategies, and outstanding capabilities and equipment. We are proud to play our small part in that. We are also very respectful of the security we have today in the UK and her overseas territories, along with that of her allies. This has been hard-won and many have served their countries to achieve this; some have paid the ultimate price to achieve that security, many have paid the price of injuries and other effects. This is why we have a respectful stance to both veterans and the fallen.
UK Conflicts & Operations...
This is by no means an exhaustive list of Operations or Conflicts in the last Century nor is it to imply or confirm of any involvement of ADM Shine Technologies Ltd in any of these... It is company policy not to confirm nor deny involvement in any operations and any FOI will be referred directly to the UK MoD; the Company will not answer such. This list of Operations or Conflicts is provided out of respect so that we may all remember those that served, those injured and those that fell for the peace and security of all; We will remember them....
......... o O o .........
KEY:
CONFLICT... Date of Reflection.... Information about Conflict or Operation including start and end dates and any other key dates.
......... o O o .........
WWI...
11th November... In support of the first World War which commenced 28th July 1914 and ended 11th November 1918.
WWII... 2nd September... In support of this conflict which commenced 1st September 1939 and ended 2nd September 1945. It is observed as a memorial of the Victory in Europe that the European conflict ended 8th May 1945 [VE Day]; World War II continued on in the Far East until Japan finally surrendered 2nd September 1945.
Suez Crisis... 7th November... In support of the Suez Crisis of Egypt and Britain/France & Israel which commenced 29th October 1956 and ended 7th November 1957.
Malayan Emergency... 12th July... In support of this conflict which commenced 16th June 1948 and ended 12th July 1960.
Indonesia-Malaysia... 11th August... In support of this conflict which commenced 12th January 1962 and ended 11th August 1966.
Aden... 30th November... In support of this conflict which commenced 10th December 1963 and ended 30th November 1967.
Dhofar... 1st January... In support of this conflict which commenced December 1962 and ended January 1976.
Kosovo... 11th June... In support of this conflict which commenced 28th February 1998 and ended 11th June 1999.
Yugoslav wars... 21st June... This has been a particularly troubled country and many conflicts have occured since its creation in WWI and invasion in WWII. The main subsequent conflicts that created wars commenced 31st March 1991 and ended 21st June 1999. Further insurgency aspects of UN Security involvement to 2001 occurred.
Northern Ireland... 31st July... In support of the end of troubles and the peace accord - which commenced 14th August 1969 and ended 31st July 2007.
Falklands... 14th June... In support of the British Overseas Territory and the conflict for this, South Georgia and the South Sandwich Islands which commenced 2nd April 1982 and ended 14th June 1982.
Gulf War I... 28th February... In support of the Iraq conflict - which commenced 2nd August 1990 and ended 28th February 1991.
Gulf War II... 22nd May... In support of the Iraq second conflict - which commenced 19th March 2003 and ended 22nd May 2011.
Libya War... 31st October... In support of the liberation of Libya conflict - which commenced 19th March 2011 and ended 31st October 2011.
War in Afghanistan... 26th October... This has been a particularly troubled country since the times of Alexander the Great, with over a dozen conflicts; this is perhaps technically the forth Anglo-Afghan war. This latest conflict commenced 7th October 2001 and ended 26th October 2014.
......... o O o .........
Cold War... 25th December... This was a state of Political and Military tension after WWII between largely the West [NATO and her Allies] and the East [Soviet Union and the Warsaw Pact]. This was essentially five geopolitical eras or periods of tension from September 1947 to December 1991. Although the earlier troubles started to be cemented by the so-called Long Telegram in February 1946 from Moscow to the US. The USSR Cominform created in September 1947 is considered the start of the Cold War; The end being USSR officially being dissolved on 25th December 1991.
......... o O o .........
The
Commonwealth War Graves Commission
has the responsibility to ensure that 1.7 million people who died in the two world wars will never be forgotten. They care for cemeteries and memorials at 23,000 locations, in 153 countries. The CWGC values and aims, laid out in 1917, are as relevant now as they were over a 100 years ago.